Wedding today is not an automatic outcome of a relationship. When we decide for her, we want her to look really great. Few people can make an appointment at the nearest restaurant. If the wedding, so stylish. And trends are changing. Even those who have lived in the city all their lives long for a romantic wedding ceremony. And this is exactly what the new wedding trends of 2022 correspond to. The hit is a wedding on a farm.
How about new wedding trends and a farm wedding?
First of all, it is necessary to choose a suitable place. You will probably find some stylish farm or pub in Prague as well. But in a city, such a wedding will only seem like a dummy. He really wants to go out into the country. A few kilometers outside of Prague you can discover an unadulterated romantic countryside ideal for a wedding. Such is Statek Nechánice where you can breathe the well-being, freedom and atmosphere of old Czech farms. A wedding on a farm in Nechánice is literally synonymous with making a modern wedding in a trendy country spirit.
Stylish wedding on the farm to the last detail
A farm wedding on a farm has a number of specifics. First of all, it is possible to use more interesting catering, which stands out just in the environment of the farm. The wedding is ideal to incorporate not only indoors but also outdoors. A specific floristic decoration is suitable for this. It is definitely not possible to save flowers and it is good to agree with the florist so that the rural theme is also reflected in her. The Nechánice farm is also able to provide an experienced florist on its own. As well as suitable catering. It is possible to use the grill and also serve grilled specialties at the wedding.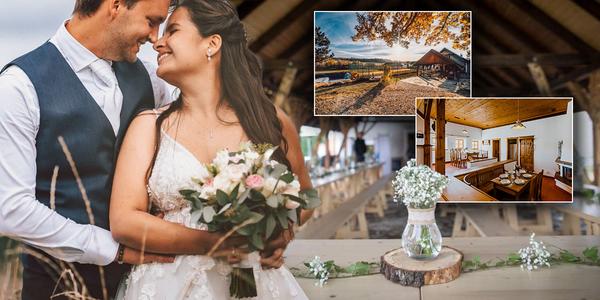 Desserts and wedding cake with natural elements
A naked wedding cake decorated with fruit and flowers built on a piece of wood - you can still style the main dessert of the evening. The wedding can smell of herbs, you can bet on a RAW diet in the form of raw vegetables, which will effectively and healthily replace traditional side dishes. Or, conversely, another alternative may be classic Czech cuisine. Feel free to sauce. Both are tailored for a farm wedding.
Have a program prepared for the proper wedding on the farm
Outdoor photography in an exclusive natural environment, such as horseback riding - all this can be part of a successful wedding on a farm. At Statek Nechánice, they are able to prepare such a turnkey program for you, including the provision of a professional photographer. There is also a complete animation program not only for adults but also for children. After all, it is the children who can enjoy the wedding the most, and children and adults are more satisfied with the program directly for them.
I WANT A FREE PROFIMODA MAGAZINE!
Get Profimoda magazine sent to your e-mail inbox! Become a member of a community of people who love fashion, fashion trends and everything around the modern lifestyle.
your e-mail
WeddingWedding 2022Wedding on a farmWedding on a farm 2022Wedding ceremonyWedding ceremony 2022Wedding trendsWedding trends 2022
Yveta Štrkováeditor
My passion for animals probably characterizes me the most. I bring everything home. Cats, dogs, rodents of all kinds, even snails or spiders. I never wear black because my cat always adorns them with white hair. I never wear white pants because my dogs always wipe their mouths after breakfast. But I always carry big cables, because hairy people need a daily supply of goodies.
Related Posts
Leave a Reply Cancel Reply
Your email address will not be published.