Shortly after the elections, the re-elected MP Marek Benda was beaming on Czech TV. For example, he stated that "some problems will not be solved in this coalition. Typically, for example, marriage for all (…) Holt will decide in the next election period." While in normal times we might take Bend's cries lightly, the new composition of the House of Representatives probably proves him right. What effects will the newly formed government have on the queer community and how do queer people actually feel about the election results?
The end of Babiš, but also of the fighters for the rights of the queer community
On the one hand, there is reason to celebrate even across the queer community: a criminally prosecuted populist billionaire will not rule here. Otherwise, however, for queer people, the current composition of the House of Representatives is not a reason to be happy. An example is the support for the amendment to the Civil Code on marriage for all, which activists have been trying to enforce for years in order to straighten the legislation towards non-heterosexual people. Of the two hundred newly elected MPs, only around fifty support equal marriage. (Jsme Fér mentions 49, but we can also count Bára Urbanová (STAN), who has already expressed support for the topic of marriage for all on Twitter several times). For many of them, it is a relatively lukewarm support and none of the main fighters* for queer rights defended their seat. Above all, it is a noticeable loss among male and female pirates: neither Ondřej Profant nor František Kopřiva made it to the lower house, and Barbora Kořanová from ANO, who had long been one of the most active politicians in this area, also dropped out.
Olga Richterová was the most surprising when she acknowledged in iRozhlas that people of different orientations do not have the same rights, but at the same time stated that she does not intend to look for topics "on which we divide and disagree" in government negotiations. Later, in an apologetic (and hard to believe) tweet, she wrote that she supports marriage for everyone and that she will see what she negotiates in the government coalition.
Conservative power unchecked
But it's not just about marriage for everyone. The Czech Republic has long been ranked as the seventh worst country in the EU in terms of LGBTQ+ rights, and compared to our allies, apart from equal marriage, we do not have any other important anti-discrimination laws approved. In the West, for example, there is a self-evident law on prejudicial violence against queer people. Above all, the Czech Republic is still one of the last countries in the EU to impose illegal forced sterilizations on trans people. Haru Špindler from the Trans*Parent organization drew attention to this, who commented on the election result as "not particularly positive for trans and non-binary people". According to him, "the abolition of forced sterilizations/castrations will not have much of a chance to be discussed, because few of the elected MPs realize how problematic and inhumane this practice is for trans people.
Young trans girl Ashley Hirsch commented on the result of the election as "a disaster because for the first time in history the Conservative government will have uncontrollable power". According to Ashley, the composition of the House without a progressive opposition could have an unfathomable impact on the lives of trans people. They fear the next four years. For now, he just hopes that "the status quo will be maintained, because on the contrary, there will be a lot of MPs in parliament who want to take away even the last vestiges of rights that trans people have." It is hard to disagree with Ashley, if the name of the mentioned MP Bendy is most often mentioned as the name of the future Minister of Justice, i.e. the minister who should present the amendment to end forced sterilizations.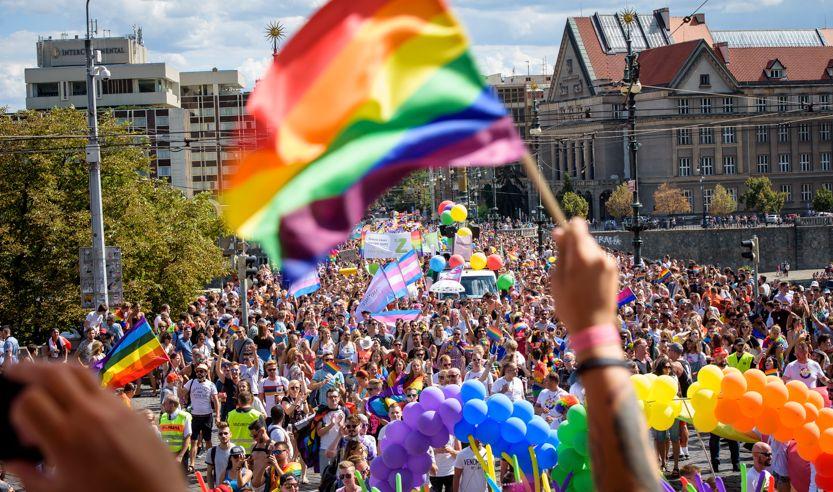 Marek Benda makes no secret of his queerphobia. Not only does he work closely with the Alliance for the Family – during one of his performances, they blew up a huge baby on Klára, which should symbolize gay adoption, or, as he and Jana Jochová call it, "baby trade". Perhaps the funny thing is that Marek Výborný, the new chairman of the KDU-ČSL parliamentary club, was also there with him. But in the past, Benda also spoke at a protest against the Prague Pride parade, fought against divorce or said that "homosexual marriage threatens Western civilization."
But Benda will not be the only one in the new chamber who actively opposes the rights of queer people to a dignified life. It is worth noting that the future Prime Minister Fiala let himself be heard, "no one can ask me to believe that people of the same sex should create a family equal to the natural one". According to him, on the contrary, it is time for our society to start defending the traditional family more "as part of its survival". It is certainly not worse than Babiš, who invited Viktor Orbán to the Czech Republic for a state visit as part of the election campaign, or shared Jiřina Bohdalová's video on Twitter during Prague Pride, in which she said that trans people are sick and that they "don't have a brain", but it is not definitely not a win. Above all, when the new parliament lacks a substantive and progressive pirate opposition that would defend our rights. Unfortunately, the only ones who will have a strong voice in the opposition are supporters of the slogan that "there are only two sexes, pindík or pipinka". That is, assuming that Babiš's movement does not miraculously turn into an honestly working opposition party that would return to its supposedly liberal ideals from 2011.
Bittersweet Victory
This has been echoed across conversations with all the young queer people I've spoken to about this election – they're all tired of endless scapegoating, the use of fear of LGBTQ+ people to gain political favor. In Czech politics, they become objects of political struggles and hatred against them, whether on the street or online, is escalating. Also because of the election results, many queer people are now in a pretty hopeless situation and don't want to wait another four years for their human rights. The artist Barbora Matoušková commented on the results as a "total disaster". "Why should I put up with the fact that I live in a country where, as a bisexual woman, I will be understood to death as some kind of fetish? And why should I get used to the fact that when my best friend goes with a friend outside of Prague, they don't even hold hands 'just to be safe'?!'
Jana Myšáková, co-founder of the popular Respektuj platform, also considers the situation hopeless. She stated that while the results of the elections are presented mainly positively, "in the matters that I am mainly concerned about, we have set a lot of goals". This situation can mainly have very negative effects on those who are not yet sure of their identity and have not come out. In specific cases, scapegoating can cause so-called minority stress in young queer people, which then has an impact on the individual's mental health and, in extreme cases, can lead to suicide. For them, the current situation can be critical (and in this context, it is appropriate to draw attention to the services of the sbarvouven.cz counseling center and their mentors, who are available to all queer people).
It is nice that there will no longer be communists in the House of Representatives or that we will not have a criminally prosecuted billionaire as prime minister, but instead of mobilizing for progress, the next four years will probably require mobilizing against regression. And please, if you're celebrating the victory of the Together coalition, be aware that this may be a somewhat traumatic topic for your queer friends.
The author is a queer activist and law student.